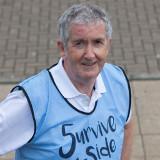 John MacKenzie, 71, from Crieff was diagnosed with lung cancer in February 2011 after being sent for an x-ray by his GP.
A tumour was found in his left lung and following several scans and biopsies, he underwent surgery at the Royal Infirmary of Edinburgh in May 2011 where half of the lung was removed.
After taking medical advice, John then made the decision to undergo a course of chemotherapy, and hasn't required any further treatment for his lung cancer since.
As someone who was fit and healthy before his diagnosis, John is now back to doing the things he enjoyed such as walking and cycling.
John said:
"I had only just retired when the tumour was found. It was shocked at the time, but hearing the news that it hadn't spread elsewhere was a relief. The time leading up to the surgery was the hardest. With every test and biopsy you felt like you had cleared a hurdle, and then faced another one.
"Fortunately for me, the recovery was pretty straightforward and I managed to clear all the hurdles and move forward.
"After surgery I was referred to a programme where a specialist trainer put together a gym programme to help with my rehabilitation. I stuck to it and it was one of the best things I did. I feel extremely grateful that I'm now able to enjoy an active retirement and time with my family.
"It's important people understand the benefits of finding cancer at a stage where it's treatable. You need to take charge of your own health, and if something doesn't feel right, seek advice from your GP at the earliest stage."
Have you influenced a loved one to get checked early? Or did you get checked early and now live a full life? If you'd be willing to support our campaign, we'd love to hear from you – your story could encourage someone else to take action. Contact us here.