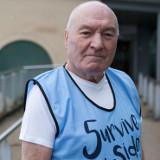 Daniel McLaughlin, 75 from Drumchapel, was diagnosed with lung cancer in 2016 after undergoing treatment for a tumour that was found in his mouth.
A subsequent PET scan showed a lump in his right lung, which after a biopsy was confirmed as cancer.
Daniel underwent successful surgery at the Golden Jubilee National Hospital in July 2016 where a third of his lung was removed, and the former shipyard worker needed no further treatment.
Daniel said:
"I first saw my GP when I noticed I had a small lump in my mouth. A biopsy ten days later showed it was cancer and it was removed. A few weeks later, I got the news about the lung cancer and things moved really quickly. I needed no chemotherapy or radiotherapy and I've been fine ever since.
"I go to the gym, enjoy fishing and keep myself fit. I was worried about whether I'd be able to go up and down the stairs in my flat, but I can manage that no bother. The doctors are happy with my progress and I'm happy life is back to normal.
"I feel very lucky that things turned out the way they have. I'm proof that you can survive lung cancer. If I can do it, so can other people."
Have you influenced a loved one to get checked early? Or did you get checked early and now live a full life? If you'd be willing to support our campaign, we'd love to hear from you – your story could encourage someone else to take action. Contact us here.