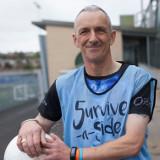 Father of two Brian Gemmell, 53, from East Kilbride was diagnosed with lung cancer in 2014 after seeing his GP with concerns about swelling of his fingertips.
The recovery truck driver was immediately sent to Hairmyres Hospital for an urgent chest x-ray, which revealed a tumour in the centre of his right lung.
Surgery to remove his lung was scheduled at the Golden Jubilee Hospital just weeks later, and Brian needed no further treatment.
Since his diagnosis and subsequent recovery, Brian now devotes his time to volunteering at the Golden Jubilee and with the Roy Castle Lung Cancer Foundation as a patient advocate to help others going through cancer treatment.
His experience has also lead to him discovering a love of exercise and he has trained as a cancer rehabilitation instructor and personal trainer.
Brian said:
"My GP was brilliant and everything moved really quickly once I was diagnosed. I would say I'm one of the fortunate ones. Every six months I go for a check-up and see a respiratory consultant to check everything is on track, which luckily it is.
"I'm fitter now than I ever have been. I feel I've been given a second bite at the cherry as I get to see my grandkids growing up. So I've got to look after myself to make sure I can enjoy that time.
"My wife and daughter nagged me to go and see my GP, even though I'd noticed the symptoms I had. My advice would be to not ignore any worries you or those close to you have. It's worth getting them checked out as finding lung cancer early is so important."
Have you influenced a loved one to get checked early? Or did you get checked early and now live a full life? If you'd be willing to support our campaign, we'd love to hear from you – your story could encourage someone else to take action. Contact us here.