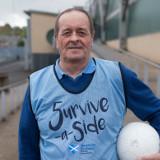 William Laidlaw, 63 from Govan, was diagnosed with lung cancer in January 2017 after going to see his GP with a tickly cough he'd had for a while.
William had ignored the symptom as he thought it was just a winter cold, but his family pressured him into getting it checked out. His GP sent him for an x-ray and following a CT scan he was diagnosed with lung cancer.
William underwent surgery at the Golden Jubilee National Hospital in February 2017 where a third of his lung was removed. The forklift driver required no further treatment as the cancer hadn't spread.
William said:
"When I found out I had lung cancer, it was a big shock, but I tried to stay positive and let the doctors do their magic.
"The tumour was removed in February, on my birthday. The treatment was fantastic with everything going to plan and I wasn't in a great deal of pain after. Now, apart from the odd twinge in my side and needing an inhaler, I'm back in my old routine.
"I'd say to anyone, if you think there's something wrong, get it checked out. The quicker they get it, the better your chances."
Have you influenced a loved one to get checked early? Or did you get checked early and now live a full life? If you'd be willing to support our campaign, we'd love to hear from you – your story could encourage someone else to take action. Contact us here.