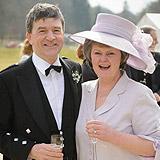 "At the age of 50 I was invited to go along for my first mammogram at the local clinic. As a fit and healthy woman with no family history of breast cancer, I thought it would be clear but I was grateful for the opportunity to get checked out.
At the clinic I was told that a high percentage of women get called back for further tests as results can show something irregular. They said this was a common procedure, especially on a first mammogram visit as they have no previous results and nothing to compare it with.
Two weeks later I got a letter asking me to go back to the clinic for a biopsy as there was something irregular showing up on the results. I was examined by a doctor who couldn't feel any lumps. A biopsy was taken and a week later I returned to be told it was a Grade 1 cancer. A couple of weeks after this I went to Raigmore Hospital in Inverness where a lumpectomy was carried out. I went into hospital in the morning and was allowed home in the evening.
When I returned I was told the tumour had been very small and deep rooted and that was why no-one could feel it. They couldn't tell how long it had been there. They also explained that the lymph node results were clear. If it wasn't for the mammogram this would never have been detected and it could have grown and spread at a rapid rate.
In June 2012 I attended the hospital on a daily basis for 15 sessions of radiotherapy, which just took a few minutes each session. I also started Tamoxifen which I take on a daily basis. This is to be taken for five years after the operation.
Staff at the clinics and hospital have been highly supportive, understanding and very professional. Medicine has advanced so much in recent years and it's great that women get the offer of breast cancer screening. As I have experienced, if there is something wrong it can be dealt with at an early stage and then you can return to a normal life.
I'm very fortunate to have been given the opportunity of having a mammogram – it has given me a future to enjoy with my family and friends."
Have you influenced a loved one to get checked early? Or did you get checked early and now live a full life? If you'd be willing to support our campaign, we'd love to hear from you – your story could encourage someone else to take action. Contact us here.