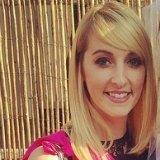 Rachel Lindsay, 26, a PA from Dundee, was diagnosed with cervical cancer in August 2016 after attending a routine cervical screening appointment.
Rachel had attended her previous cervical screening appointments so when she was called for her latest smear in Summer 2016 she didn't think twice about going.
Rachel said: "After the smear, I received a letter informing me that abnormal cells had been detected and I was asked to have a biopsy taken at the hospital. My mum came with me and I was told that they could see a mass on my cervix which could be cancer.
"I just felt numb and didn't really take it in. I went to the hospital thinking the biopsy was just routine and we ended up being there for hours discussing my treatment options and arranging scans. I was so glad my mum was there with me for support but the next few days were really difficult, having to tell my friends and family."
Rachel's diagnosis was confirmed a few days later when all of her test results were received and reviewed - Rachel was diagnosed with cervical cancer.
Rachel explains: "The tumour was on the cusp of four centimetres - chemotherapy and radiotherapy was my best option.
"I had ovarian transposition surgery before any treatment to move my ovaries out of the field of radiation and help prevent my body from going into early menopause. I also had egg retrieval which were then frozen so that I have the option of having my own children in the future."
Rachel started her treatment at the end of September and over the next six weeks she had five rounds of chemotherapy and twenty-five rounds of radiotherapy and finished with 16 hours brachytherapy on the 10th November 2016.
Rachel continues: "Despite everything I've been through, I've taken it in my stride and had a very positive attitude throughout. My boyfriend, family and friends have supported me through the whole of my treatment and I really can't thank them enough.
"I had no side effects from the chemotherapy but I couldn't avoid the effects of radiotherapy - I had extreme tiredness, stomach pains and problems with my bowel but I am just so grateful that the treatment is now complete.
"Cervical screening is so important. Just because you don't have any symptoms doesn't mean you shouldn't go for your smear. I had no symptoms so if I hadn't gone for my smear when I did then the outcome could have been very different. It takes five minutes of your time and is so beneficial to your health and life in the long run."
Have you influenced a loved one to get checked early? Or did you get checked early and now live a full life? If you'd be willing to support our campaign, we'd love to hear from you – your story could encourage someone else to take action. Contact us here.