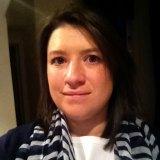 Lynsey Dickie, 37, from Dumbarton, was diagnosed with cervical cancer in 2013 after attending a routine cervical screening appointment.
Lynsey said: "I started going for screening after I had my first child. My results had always come back clear but after a routine smear at the beginning of 2013, I was told that the test had found abnormal cells.
"I was referred for a colposcopy and saw a consultant a couple of weeks later where I was told I had cervical cancer.
"The news was a big shock. I was only 34 and my husband and I were trying for another baby. We had to put our plans on hold so I could have treatment.
"Initially we thought that the best option would be to have a hysterectomy however a week later, I had an MRI scan and the surgeon threw me a lifeline – he told me they could operate to remove the section of my cervix where the cancer was and the pelvic lymph nodes as a precaution. There was a risk that I would still need a hysterectomy and possibly chemotherapy if this wasn't successful but I was willing to try.
"A week after my surgery I got the great news that all of the cancer had been removed and I needed no further treatment. I only had to attend regular check-ups which are now annual.
"We had to wait a year to try to conceive again and then I had to have a cervical stitch put it place during the pregnancy but in May 2015, our second son was born by c-section and we are all happy and healthy.
"Had I not gone for my smear when my letter arrived I could have had a very different outcome. I would encourage all women to attend screening and get checked out."
Have you influenced a loved one to get checked early? Or did you get checked early and now live a full life? If you'd be willing to support our campaign, we'd love to hear from you – your story could encourage someone else to take action. Contact us here.