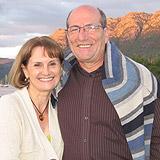 "My husband, Rab, had recently taken up golf and one day, after playing a round, he came home shivery and needed to wrap himself in a blanket. He also started getting bad night sweats. This went on for a few months until one day he was trembling so badly that it really worried me. I knew something was wrong but I didn't think for a second that it could be cancer.
There was no argument from him as I called the doctor and talked through his symptoms. They told me to bring him in for a check-up and the doctor was brilliant. She gave him a thorough examination and even noticed little details, like his fingernails being slightly curved, which she explained could be a lung problem. Rab was then sent to a clinic where he was given a chest x-ray and then sent for a CT scan, where they found a tumour in his lung.
We were told that the tumour was operable, which was the best outcome in the circumstances as they could remove the cancer rather than use other treatments to shrink it. Rab had the lower section of his right lung removed in surgery and then went through four rounds of chemotherapy at Aberdeen Royal Infirmary to ensure the cancer was completely gone.
He was very fortunate that the cancer was detected at a stage where it was operable. If it had been left any longer the tumour could have grown and the cancer may have spread. Looking back I realise that the shivers and night sweats were cancer symptoms and I still feel guilty that I didn't insist he went to the doctor earlier.
It can be difficult to bring up concerns you have about someone's health, but it's important to look out for those you love.
I would encourage anyone who has concerns about the health of someone close to them, to speak to them about it. Even recommend that you go along to their appointment with them. It could be nothing, but then again, they may well thank you in the long run like Rab has."