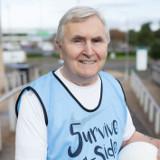 Bill Culbard from Dunblane was diagnosed with lung cancer in 2000 after his wife encouraged him to get a bad wheeze checked out by his GP.
After being referred for and x-ray, Bill received news that a shadow across his lung had been found which was subsequently diagnosed as cancer.
As the tumour was inoperable, Bill's treatment involved chemotherapy and radiotherapy which started just three weeks after his diagnosis. The treatment was successful and Bill received the good news in early 2001 that the cancer had gone.
Bill, who has dedicated his time to raising awareness of the benefits of finding cancer early since, said:
"I remember the bottom falling out of my world when I was diagnosed. It's natural to automatically fear the worst. It's a huge thing to happen to anyone and I remember telling family and friends was particularly difficult.
"Being diagnosed early makes such a difference to your chances of survival however, and I'm just glad I acted when I did. There's so much that can be done to treat lung cancer these days, but it's important people play their part in getting any concerns checked out.
"Life is busy and I'm in good health which is something I never take for granted. The five a side game was the best fun I'd had in a while – and the most exercise!"
Have you influenced a loved one to get checked early? Or did you get checked early and now live a full life? If you'd be willing to support our campaign, we'd love to hear from you – your story could encourage someone else to take action. Contact us here.