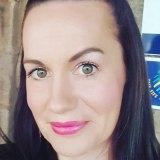 Adrina Wallace, 34, from Burntisland in Fife, had treatment to remove abnormal cells after attending a routine cervical screening appointment in 2014.
The mother-of-three, said: "I had always taken up the offer of screening and when I was sent a letter asking me to go for my regular smear test three years ago I didn't hesitate in going.
"A few weeks after the appointment, I was recalled for a second smear because abnormal cells had been found."
After Adrina's second cervical screening appointment, she was asked to go to the hospital for treatment to remove the abnormal cells, which could turn into cancer, from her cervix.
Adrina explains: "The news that I would have to have treatment was a shock but I knew I had to get it done for my three girls. I wasn't too sure what the treatment was going to involve but the nurses were so lovely and talked me through the procedure. It took a matter of minutes under local anaesthetic and I was in hospital for a further 20 minutes after treatment just to ensure I was ok after the anaesthetic.
"I had a check-up a few months after the treatment and the doctor told me I could go back to having regular screenings every three years.
"If I hadn't gone for my smear, I don't want to think about what could have happened. It was an emotional and scary time but I am so glad I went. It's so important for women to go."
Have you influenced a loved one to get checked early? Or did you get checked early and now live a full life? If you'd be willing to support our campaign, we'd love to hear from you – your story could encourage someone else to take action. Contact us here.